Work Engagement Profile
The Measure : The Work Engagement Profile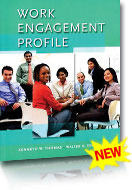 What motivates people to do their best work – to go the extra mile? Broadly speaking, two kinds of factors shape employee engagement: extrinsic rewards – pay, benefits, promotions, awards, and so on – and intrinsic rewards – psychological rewards that fuel engagement by providing a positive emotional charge. The Work Engagement Profile is uniquely focused on measuring intrinsic rewards and providing insights that can directly affect an organization's bottom line because it addresses work engagement at the core level – the employee.
The assessment measures four key intrinsic rewards: a sense of meaningfulness, of choice, of competence, and of progress. This 20-page booklet includes the self-scoring assessment, interpretative information on scores, actionable steps to increase the level of those rewards, and a development planning worksheet.
An on-line version of the Work Engagement Profile is currently being developed, and is scheduled for release in 2010.
---

Special episode of the People and Projects Podcast :
An Interview with Dr. Kenneth W. Thomas regarding the Work Engagement Profile (25 minutes)
---
---

For more information and purchasing opportunities please click the CPP link.